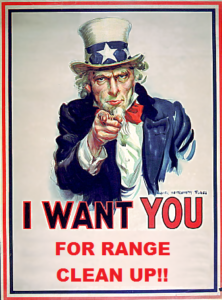 RANGE CLEAN UP
Saturday, March 18th at 9am to midafternoon
This year, we have a detailed list of items we are improving at the range, and we need your help to make it happen.  Its because of the range clean up day that we are able to have the facility we have, so I encourage everyone to come down, and make the range great!!  We are all in this together, so I hope to see you there!!
Here's a short list of just a few items we will be working on:
Repairing and replacing steel targets (rifle range swingers, etc.)
Replacing all target backer holders and OSB on entire range (rifle and pistol bays).
Adding additional target backers on the pistol bays
Construction of new shooting walls
Replacing and repairing wood competition shooting props and barricades.
Paint steel and a variety of other items  (great task for the kids)
Spread out road mix to fill pot holes, etc.
WHAT TO BRING
If you have them, bring your cordless drills (with screwdriver bits), sawzalls, and hand tools.  If you don't have any tools, not to worry, we will have some to lend out.  And most importantly, bring the family out, it's guaranteed to be a great time!!
FREE FOOD
Since we are confident you'll be hungry after all this hard work, Austin Hecker has once again volunteered to grill and provide a free lunch to all those who show up.
CONTACT INFO
If you would like additional information or have questions, please do not hesitate to email us at lastchancehandgunners@gmail.com.
I look forward to seeing you on March 18!!